Interview with Roseline d'Oreye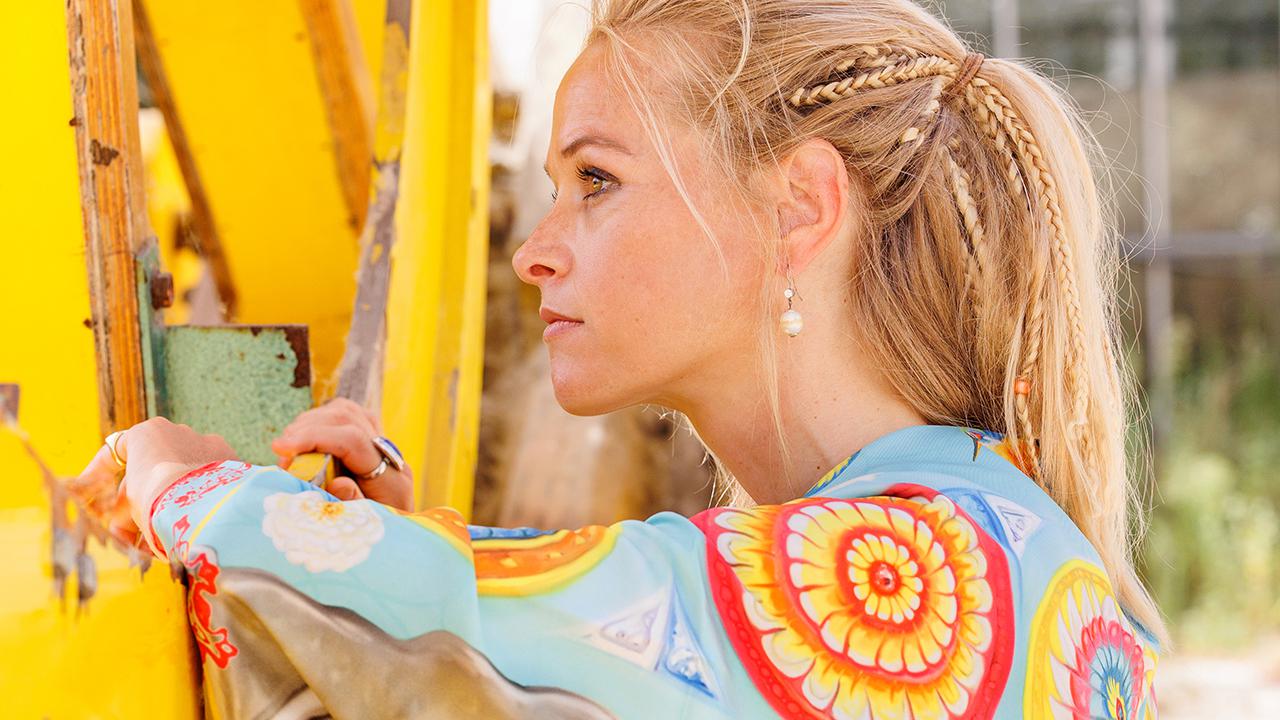 Interview with Roseline d'Oreye
Meeting with an angel...
Photos : Patrick Bya / Click on pictures to enlarge.

Newly installed in the sublime Galeries Royales St-Hubert, Roseline d'Oreye welcomed us and it is with a real happiness that we could share this moment to see her again and better know her universe and especially learn about this new boutique in the heart of one of the most beautiful galleries in the world!



Roseline has everything of an angel, her kindness and open-mindedness, her long blond hair resting on her shoulders or held in a multicolored silk scarf, her smile so sincere and above all her ability to make everyone appear at the forefront of her colored pencils that never leave her.



Roseline d'Oreye - Full ITV/Feb. 27.
LB > Thank you Roseline for granting us this interview in your lovely boutique! A new creative space in the sublime setting of the Galeries Royales St-Hubert, you tell us about this new adventure?
RDO > Thank you for initiating this interview!
Yes, indeed, it's a whole new stage that is opening up thanks to this "boutique - showcase" that I have been working on for a long time.
To begin with, I have felt for several months the importance of having a stable physical place, thanks to my experience with pop-ups and, in particular, with Balthasar, at the Sablon.
An online store is good, but it's far from enough. Surprisingly, my online sales work better when I can be found in person.
Moreover, the stability of a place is an important criterion for the type of products I offer. Some customers make a purchase on impulse, others need to think about it.
The instability of pop-ups does not make it easy to find a designer.



So when Balthasar ended in April 2022, it propelled me into the decision to find a physical retail space that I could call my own. By various "coincidences", I stumbled upon this boutique in the Galeries Royales Saint-Hubert (often mistakenly called the Galeries de la Reine. Indeed, the Galeries Royales Saint-Hubert are composed of 3 parts: the Galerie du Roi, the Galerie de la Reine and the Galerie du Prince). The store was not vacant at the time, but the tenants were eager to hand over their lease.
But committing to a 3-6-9 lease is a decision not to be taken lightly!
Initially, the anxiety of making such a decision took precedence over all my other emotions. I had some insomnia... Then, little by little, I perceived that when I talked to my friends and family about my hesitation to commit to this commercial space, the stress gave way more and more to enthusiasm, excitement, desire!
I recognized that indicator that is so important in making a decision: JOY!
The place, the store, the Galleries... it was all so inspiring!



In fact, the more I thought about it, the less I could see where I could have located my work other than at the Galeries. This timeless, touristy place totally fits the type of clientele I'm looking for.
And then the beauty of the place, the "village" spirit that I feel there, the kindness of the owners, the good management of this Belgian heritage which is dear to us... All this seemed to me a golden opportunity that was difficult to refuse. All the more so as at the same time, I met Julie Heymans (Window Academy) thanks to Béa Ercolini and her circle "BéaBee". Julie is a window dresser, specializing in window displays and product enhancement.
It was an added blessing to meet her in this very thought process!
And I was very lucky because she was immediately enthusiastic about my project, and we worked closely together to design my store. I can't thank her enough, because without her I wouldn't have created such a beautiful showcase. I would also like to thank the entire Galeries team, especially Vincent Barbier (the architect) who helped me with the technical aspects of the whole project.
Everything seemed to me fluid and more and more obvious: this place was waiting for me.
Finally, I was also lucky enough to receive subsidies from HUB Brussels and the City of Brussels in the framework of "OpenSoon2022" for new businesses in Brussels. A very large file was required to apply for the subsidies and this pushed me to structure and design my project even better. Both the preparation of this file and the subsidies as such helped me a lot to concretize the setting up of this store.
So after months of conceptualization, reflection, research, and finally work, I opened on December 8th, just in time for the end of year festivities!




LB > Your creativity is simply extraordinary, that's our opinion, that of many and notably of some big luxury houses that solicit this creativity. Can you tell us about this collaboration with these brands?
RDO > Among the different experiences that have greatly helped me to progress during my first years, despite or thanks to Covid (because my brand is barely 4 years old), the trust of great houses has indeed been decisive. Starting with the House of Degand, the House of Natan, Roger 1937 and Sisley Paris.
I made a series of men's clutches with Maison Degand, silk squares and silk pajamas with Maison Natan and the limited edition packaging for Sisley Paris for their summer pop-up in Knokke. These were exciting and unforgettable experiences during which I loved meeting the teams up close. It's a pleasure to get an inside look at these great houses and to feel how everyone works with such kindness and professionalism.
More recently, I also had the chance to shoot portraits for the Maison Dior in Brussels during 3 exclusive days for a few privileged clients.



LB > There is a lot of color and positive energy in your creative work, in this pretty store. This very colorful and graphic vision, precise and also sometimes beautifully blurred, what do you need to be inspired Roseline?
RDO > I don't need anything special to be inspired. My imagination is a creative factory ;-)
On the other hand, I need time to let my ideas mature, to let them grow in me, to concretize them, to let them rest, to come back to them... until the work is mature and ready to come out in the "big day". Sometimes this time is long, sometimes relatively short. It all depends on the stage at which the first inspirations arrive and on my time availability to realize them ;-)
I find this time of maturation of ideas in the moments when I am alone: when I draw, when I cycle or swim, when I travel, of course.
But don't ask me how I know when a work is finished. I just feel it. Maybe because I don't want to work on it anymore? Because I feel it's time to share it with others? Because I can't wait to discover it in other people's eyes?
Also, what is surprising is that I rarely know what the work will "say".
You probably know that I accompany my accessories with a little text (story) that tells the design in a poetic and/or humorous way. I always write the text at the very end, when the design is finished. And it's funny, because it's often at that moment that I understand myself the work I have done. It's as if I discover it through words, whereas before it was mostly images, colors, patterns, feelings...


LB > Artist, designer, coach, illustrator, business woman, how many strings do you have to your bow Roseline and which one characterizes and describes you best?
RDO > You are a sweetheart!
What best describes me?.... I don't know, I'm mostly passionate and determined I guess.
But, since I've been saying since I was 8 years old that I would become a "draftswoman", maybe that's what characterizes me the most. It is this red thread that I have always followed and that I have never let go. Drawing to sketch life, since sketches (mainly those of travels) are the part of the work I prefer without hesitation. I think it's my way of discovering the world: drawing it. I understand it, I tame it, I integrate it.

Interview "LB Inside" (short Q/A).

1. Rather "Night" or "Day"?
> Both! I like the day as much as the night! I like the long summer or winter evenings as much as the early mornings and the silence of dawn. I envy people who only need 3 or 4 hours of sleep. That said... I love sleeping too.
2. Rather "Meat" or "Fish"?
> Fish.
3. Rather "Diamond" or "Sapphire"?
> Diamond. And why not pink.
4. Rather "Lion" or "Tiger"?
> Leo, because it's my sign. But "tiger" for the stripes and the energy.
5. More like "Fantasy" or "Comedy" movie?
> If it's magical fantasy, then fantasy. But comedies are easy and fun to watch. So, both!
6. Would you prefer "Entrée / Plat" or "Plat / Dessert"?
> "Entrée / Entrée" ;-) Generally, I prefer starters to main courses. I find them more delicate, more tasty, more original. I often ask for the 2nd starter as a main course.
7. Do you prefer "Dog" or "Cat"?
> It all depends on the dog or the cat. Some annoy me, while others I would adopt without hesitation. So both?
8. More like "Sea" or "Mountain"?
> Both too! And then, depending on the season, both have such different color and feel palettes that they are both inspiring. I love the North Sea, especially in the wind. I love the mountains, in summer and winter. I love the tropical seas full of sunshine. How lucky I am to be able to experience so much variety!
9. Do you prefer "Thai" or "Italian" cuisine?
> Both ;-) But as for my companion, it is Italian without hesitation, so it is more often Italian than Thai.


Interview "DefLux LB".

> According to you Roseline, which definition of luxury is the closest to your vision? (please make your choice and explain)
1. Oscar de la Renta: "Luxury is not buying expensive things, it is living in a way that allows you to enjoy them.
2. Henry Royce: "Luxury is when the quality remains long after the price is forgotten".

RDO > I really like the first definition from Oscar de la Renta. Indeed, luxury is not only a question of price.
For me, luxury is a way of respecting life, of making it beautiful and harmonious, of enjoying the beauty of things and beings, of being grateful and attentive to the life around you, and therefore, of giving it time to blossom at its own pace.
This is in line with what I say in my silk square "Carnet de Majorelle". When I was drawing in the Majorelle Gardens, a cactus flower opened. A janitor told me that this type of cactus takes 20 or 30 years to create a single flower. I obviously felt terribly honored to receive such a gift! But more importantly, I realized that this cactus offered me the pure definition of luxury: taking your time to make your most beautiful flower.

/* */